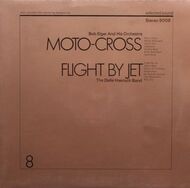 Bob Elger & His Orchestra
Bob Elger & His Orchestra was a musical group fronted by the Austrian musician Roland Kovac, otherwise known by his stage names Bob Elger and Pietro Leguani. The group composed and produced stock music from the late 60's to the early 80's.
"Bob Elger"
Edit
Roland Kovac was born in Wien, Austria on the 7th of November 1927. From an early age he was involved in music, having been in the Vienna Boy's Choir, and he studied Musicology at Vienna. He was a jazz musician who collaborated with fellow musician Hans Koller on a few of his albums, including Hans Across the Sea (1955). In the 1960s, Kovac started composing stock music under the title "Studio Orchestra Roland Kovac", and later in the 70's, "Bob Elger & His Orchestra". He produced around 14 albums of stock music for TV shows.