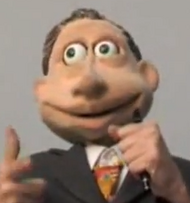 Bukulmus Kukla Dunya
Bukulmus Kukla Dunya (English: "Twisted Puppet World") was a Turkish TV puppet show.
Barely anything is known about Bukulmus Kukla Dunya. It seemed to consist of short sketches. Unusually, some of the camera shots were in the style of a CCTV camera, giving a strange "voyeur-ish" effect. The dialogue was entirely in Turkish, and thus it is hard to understand what is going on.
Known Episodes
Edit
The Office Episode - in which a suited puppet sings a bizarre rendition of "Ain't No Sunshine" entirely in Turkish, only to be accosted by a freakish Chinese snake-man, whom he hits repeatedly with a fly swatter. This clip is the only known footage.