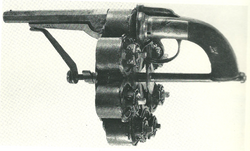 Enouy percussion revolver
This is a 48-shot percussion revolver designed by Joseph Enouy in 1855.
Enouy's percussion revolver is British patent #1359, obtained on December 11th, 1855. The patent is as follows:
"1359. Joseph Enouy, of 31, Denbigh-place, Pimlico, St. George's, Hanover Square, Middlesex, for The means of "removal" of every rotary or revolving "barrel or cylinder" containing chambers from all revolver pistols, guns, and fire arms, and the "substitution" in their place by another and other "barrels or cylinders" in succession. - Dated June 14, 1855. Sealed December 11, 1855."
— Enouy's patent.
Although Enouy did not actually design the revolver itself (the gun is a Charles Osborne transitional revolver dating from around 1845), he did design the strange contraption attached to it. The "compound magazine" was a rotating wheel that held 8 cylinders - a total of 48 rounds of ammunition in total - and was designed to reduce the time it took to reload the weapon. The weapon was undoubtedly very hefty and unwieldy with the wheel attached to it. Enouy patented the design, but it was never produced in large numbers and the design never gained any popularity. Whether it was even sold commercially is unlikely.
Enouy's revolver was formerly owned by the late Cecil Gordon Vokes, who died in 1961.