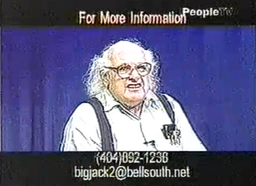 Jack Jersawitz
Jack Jersawitz was a civil rights leader in Atlanta, Georgia. He hosted the  public-access call-in shows Brain Storms and Telling It Like It Is. 
Biography
He  was born in 1934 in Brooklyn, NY and protested against all wars. He ran for Mayor in Atlanta Georgia and won several important lawsuits relating to civil liberties. He died of cancer in 2012.  For more detailed biographical information please go to:  http://www.atlantaprogressivenews.com/interspire/news/2012/12/07/jack-jersawitz-1934-2012-presente.html
Ad blocker interference detected!
Wikia is a free-to-use site that makes money from advertising. We have a modified experience for viewers using ad blockers

Wikia is not accessible if you've made further modifications. Remove the custom ad blocker rule(s) and the page will load as expected.