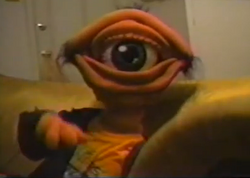 The Hypnotic Eye
The Hypnotic Eye was a cable-access comedy show that aired exclusively in Dallas in the late 90's. It was created by Joe Riley.
The format of The Hypnotic Eye was a mish-mash of bizarre sketches presented by an orange puppet with no face, but a single large eye (hence the title). Despite the unconventional setup of the show and the lack of budget, the show was surprisingly popular and ran over the course of a few years. The running time for each episode was about an hour, with the first episode being aired in 1996. Joe Riley, the show's creator, has since passed away.
Joe Riley - creator, cameraman, puppeteer
Mystery Man(?) - 2nd cameraman
Dan "the Man" Hangen - Edit coach, additional input
Alan York - Edit coach, transportation
Juan Garcia Esquivel - Music
Kenneth Weinert - Additional input
Jeff Johnson - Additional input
Bob Self - Additional input
Jason Cohen - Additional input
Barbara Cohen - Additional input
Ad blocker interference detected!
Wikia is a free-to-use site that makes money from advertising. We have a modified experience for viewers using ad blockers

Wikia is not accessible if you've made further modifications. Remove the custom ad blocker rule(s) and the page will load as expected.